Christopher Anthony Matlosz...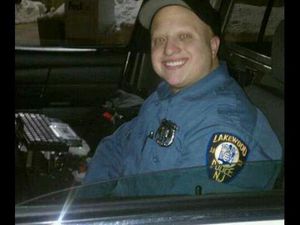 The passing of Christopher Anthony Matlosz on January 14, 2011 by a cold and heartless animal stirred much love, devotion and empathy among family, friends and the thin blue line whose membership I am proud to uphold. It is times like these when I cannot fathom a logical reason for such a despicable act that I search in God's Word to alleviate the impotence I feel. I am not disappointed when I read of retribution in Romans 13:1-2 which clearly states, "Everyone must submit to governing authorities. For all authority comes from God, and those in positions of authority have been placed there by God. So anyone who rebels against authority is rebelling against what God has instituted, and they will be punished." As if that is not enough, I am led to God's statement of vengeance and am relieved when I read Deuteronomy 32:36, "It is mine to avenge, I will repay. In due time their foot will slip; their day of disaster is near and their doom rushes upon them." I strongly say to God, "Bring it on!"
Even in Chris' death, he continues to help others. In lieu of flowers, donations may be made to: Jersey Shore Animal Shelter 185 Brick Boulevard Brick, NJ 08723
Christopher Anthony Matlosz Obituary
Patrolman Christopher Anthony Matlosz , 27 Years Old of Manchester Twp. passed away January 14, 2011 at Jersey Shore University Medical Center in Neptune.

Christopher was born in Elizabeth and lived in Rahway, Howell and Lakewood before settling in Manchester in 2008 where he was planning on starting his life with his future bride. Christopher was a graduate of Howell High School class of 2000. He received an Associates Degree in Criminal Justice from Brookdale Community College in Lincroft N.J. He graduated from the 69th Class of the Monmouth County Police Academy. Chris was employed by the Lakewood Township Police Department since August of 2006. Prior to that, Chris was employed by Freehold, Englishtown, Long Branch and Manasquan Police Departments.

He is survived by his mother Jane Caliao of Howell Twp, his loving fiancé Kelly Walsifer of Manchester Twp. Predeceased by his Father Anthony "Buddy" Matlosz who departed this life just 3 short months ago. A brother Adam Matlosz of Ewing Twp. Predeceased by his grandparents Anthony P. Matlosz and Hermine Matlosz. His Uncle Thomas of Union; His Aunts, Susan Kelly of Middletown, Jean Goldberg of Wheeling, Illinois and several cousins. He also leaves behind his future mother in law Debra Krauszer and future sister in law Kristin Walsifer both of Wall Twp, his two loving dogs Stosh and Apollo, and thousands of brothers and sisters in the law enforcement community.

Chris and Kelly were scheduled to be married April 21, 2012, at St. Rose in Belmar.

He will be remembered by his infectious smile and desire to make the world a better place, his awesome sense of humor and ability to be a prankster.